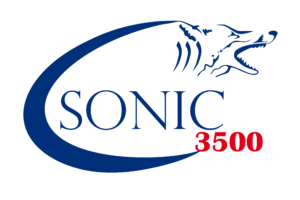 SONIC 3500, is a hydraulic drill, with top hammer system, designed for high production, and high reach with security. Attached to a excavator, ready for drilling and blasting contractors, quarries, rock bolting, rock stabilization. The operator controls the rig inside the cab, avoiding risks of accident. In few minutes, with a unique equipment, we have: drilling, demolition and excavation.
Drilling details:
* Rod type:  T38MF / T45MF
* Hole depth:  25m (82′)
* Drilling diameter:  2.1/2″ – 4″ (64 – 102mm)
* Rod length:  3,6m (12″)
* Feed force:  20 kN (4500 lbf)
Rod changer:
* Number of rods:  6 + 1
* Type:  Carrosel
Drifter W-19 (Top Hammer):
* Impact power:  19kw / 26hp
* Work pressure:  2030 PSI / 140 bar
* Rotation torque:  750 Nm
* Rotation speed:  0 – 150 rpm
* Weigth:  237 kg
Hydraulic Centralizer;

Rod's Greaser;

Grease Pump;

Auto Rod Changer;

Slide Hood;

Hose Reel;

Controls on Board;

Dust Collector (primary / secundary);

Hydraulic Drifter;
Water Tank;

Digital Angle Inclinometer;

Anti Jamming;

Pneumatic Compressor Frame;

Air Shut-off System;

Hydraulic Driven Compressor;

Nitrogen Charger (cylinder not included).
The excavator must have an auxiliar hydraulica kit, start button for auxiliar output of excavator ON-OFF and output for control panel connection of 12 volts;
Drilling details:

* Rod type:  T38MF / T45MF

* Hole depth:  25m (82′)

* Drilling diameter:  2.1/2″ – 4″ (64 – 102mm)

* Rod length:  3,6m (12″)

* Feed force:  20 kN (4500 lbf)

Rod changer:

* Number of rods:  6 + 1

* Type:  Carrosel

Drifter W-19 (Top Hammer):

* Impact power:  19kw / 26hp

* Work pressure:  2030 PSI / 140 bar

* Rotation torque:  750 Nm

* Rotation speed:  0 – 150 rpm

* Weigth:  237 kg

Hydraulic Centralizer;

Rod's Greaser;

Grease Pump;

Auto Rod Changer;

Slide Hood;

Hose Reel;

Controls on Board;

Dust Collector (primary / secundary);

Hydraulic Drifter;

Water Tank;

Digital Angle Inclinometer;

Anti Jamming;

Pneumatic Compressor Frame;

Air Shut-off System;

Hydraulic Driven Compressor;

Nitrogen Charger (cylinder not included).

The excavator must have an auxiliar hydraulica kit, start button for auxiliar output of excavator ON-OFF and output for control panel connection of 12 volts;