WOLF started its business in 1974, by a result of a dream of Mr. Constantino Wolf, who since his childhood had a passion for mechanics. Over the years, motivated by his knowledge and dreams, he implemented technological improvements in the company, providing an expansion for a new business and a new manufacturing line: rock drilling equipment.
WOLF has become a leader in this segment, being considered the pioneer in Brazil bringing modern technology reflected in its production equipment, with 5 branches in Brazil, one in the United States and more than 35 distributors throw the WORLD.
WOLF – Nordeste (Salvador/BA)
Atuação: BA / SE / PE / AL / PB / RN
+ 55 (71) 3379-6959
WOLF Américas Estados Unidos (U.S)
+ 1 (407) 704-2051
WOLF's mission is to Design and Continuously and sustainably manufacture equipment for Rock Drilling, providing to customers, products and services quality with
high technology.
To become a world reference in rock drilling equipment.
• INTEGRITY
Conduct impartial, fair and honest conduct.
• RESPECT
Act correctly with people and material goods of
the company.
• EXCELLENCE
Always do your best.
• OVERCOME
Seek to exceed your best, "go beyond".
• COMMITMENT
Act with responsibility, participation and commitment to fulfill the Wolf Mission.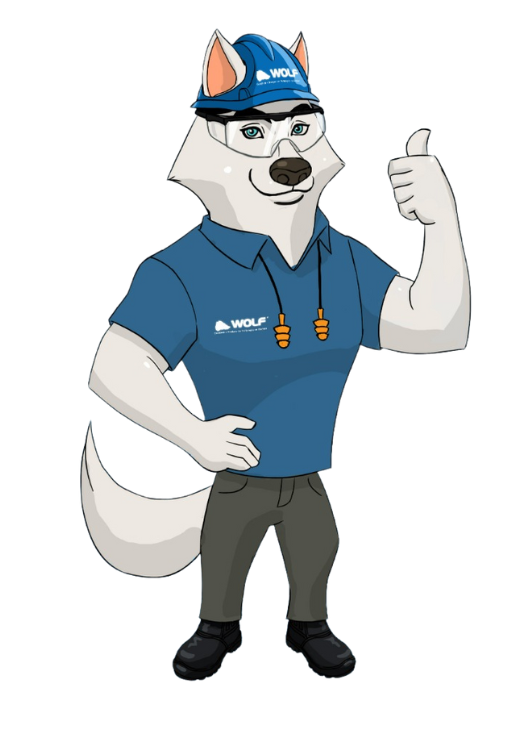 Know more our Mascot , Wolfito!
Its mission is to continuously and sustainably design and manufacture Rock Drilling equipment, providing customers with quality products and services with high technology, to become a world reference in rock drilling equipment.
Its Values are Integrity, Respect, Excellence, Overcoming and Commitment, having our customers and partners satisfaction as priority.
CHECK OUR FULL LINE OF DRILLS