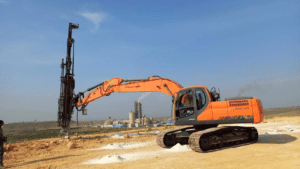 SONIC 3500 is a hydraulic attachment for excavators. The combination of two pieces of equipment for high production and economy, with the aim of optimizing your production and ensuring the highest yield of all your equipment.
Did you know that in addition to the low investment and maintenance cost, operational simplicity and long application range, the SONIC 3500 can increase drilling productivity from 4% to 6%?
Innovation, high drilling range, low diesel consumption, low maintenance costs and high production are among its main advantages. A drilling rig that increases your drilling productivity with operational simplicity.
WOLF has planned it, thinking about safety and ease of operation, and the savings it brings you.