FOX 8-20
Hydraulic Crawler Drill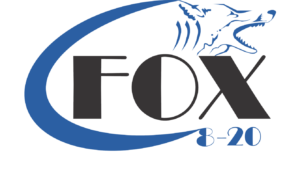 The Hydraulic Crawler Drill FOX 8-20 is an excellent option for rock drilling equipment, that can be applied in Quarries, Open Cast Mining and Drilling Service Contractors. This equipment guarantees high productivity with low maintenance cost, and 100% Brazilian technology.
* Diesel engine 4cc TIER 3 – UNIQUE IN THE CLASS;
* Equipment with low diesel consumption – average 14 l/h (3,7 gal);
* High performance – average 33 linear metres hour;
* Easy operation and simple maintenance;
* Compact equipment – SMALLER IN ITS CLASS;
* Easy and fast displacement;
* Damp suppressor according to Regulatory Mining Standard NRM 9.
Hole range:
* Rod type: T38MF / T45MF
* Hole depth: 25m (82′)
* Drilling diameter: 2.1/2″ – 3.1/2″ (64mm – 89mm)
* Rod length: 3,6m (12′)
* Feed force: 20 kN (4.500 lbf)
Diesel engine:
* Brand: Cummins
* Model: QSB 4cc – TIER 3
* Power: 130 hp
* Cooling: Water
* Tank capacity: 285 lt (62,9 gal)
Compressor unit:
* Compressor type: Screw
* Working pressure: 105 psi (7 bar)
* FAD: 180 pcm / cfm (5 m3/min)
Tramming features:
* Tramming speed (low): 0 – 25 km/h (0 – 3,75 mph)
* Tramming speed (high): 0 -4,5 km/h (0 – 6,75 mph)
* Traction force: 7.700 N.m
* Track gradient: 47%
* Track frame oscillation: 9º
Rod Changer:
* Number of rods: 6 + 1
* Type:  Carousel
Drifter W-19 (Top Hammer):
* Working pressure: 120 bar (2.030 psi)
* Rotation torque: 750 Nm (553 lbf/ft)
* Rotation speed: 0 – 150 rpm
* Weight: 237 kg
Dimensions:
* Weight: 8.500 kg
* Width: 2.321 mm
* Length: 7.300 mm
* Height: 3.700mm
* Hydraulic centralizer;
* Rod greaser;
* Rod changer;
* Side Platform
* Digital angle inclinometer (mast);
* Water flushing system (Tank with capacity of 150 liters / 40 gal);
* Nitrogen charger (cylinder not included);
* Platform with body protector;
* Sunshade support;
* Lifting eye;
* Audible Reverse Horn;
* Mechanical Inclinometer (Chassis);
* Night spotlights;
* Dust Collector (primary and secondary)
* Diesel engine 4cc TIER 3 – UNIQUE IN THE CLASS;

* Equipment with low diesel consumption – average 14 l/h (3,7 gal);

* High performance – average 33 linear metres hour;

* Easy operation and simple maintenance;

* Compact equipment – SMALLER IN ITS CLASS;

* Easy and fast displacement;

* Damp suppressor according to Regulatory Mining Standard NRM 9.

Hole range:

* Rod type: T38MF / T45MF

* Hole depth: 25m (82′)

* Drilling diameter: 2.1/2″ – 3.1/2″ (64mm – 89mm)

* Rod length: 3,6m (12′)

* Feed force: 20 kN (4.500 lbf)

 

Diesel engine:

* Brand: Cummins

* Model: QSB 4cc – TIER 3

* Power: 130 hp

* Cooling: Water

* Tank capacity: 285 lt (62,9 gal)

 

Compressor unit:

* Compressor type: Screw

* Working pressure: 105 psi (7 bar)

* FAD: 180 pcm / cfm (5 m3/min)

 

Tramming features:

* Tramming speed (low): 0 – 25 km/h (0 – 3,75 mph)

* Tramming speed (high): 0 -4,5 km/h (0 – 6,75 mph)

* Traction force: 7.700 N.m

* Track gradient: 47%

* Track frame oscillation: 9º

 

Rod Changer:

* Number of rods: 6 + 1

* Type:  Carousel

 

Drifter W-19 (Top Hammer):

* Working pressure: 120 bar (2.030 psi)

* Rotation torque: 750 Nm (553 lbf/ft)

* Rotation speed: 0 – 150 rpm

* Weight: 237 kg

 

Dimensions:

* Weight: 8.500 kg

* Width: 2.321 mm

* Length: 7.300 mm

* Height: 3.700mm

* Hydraulic centralizer;

* Rod greaser;

* Rod changer;

* Side Platform

* Digital angle inclinometer (mast);

* Water flushing system (Tank with capacity of 150 liters / 40 gal);

* Nitrogen charger (cylinder not included);

* Platform with body protector;

* Sunshade support;

* Lifting eye;

* Audible Reverse Horn;

* Mechanical Inclinometer (Chassis);

* Night spotlights;

* Dust Collector (primary and secondary)